Become an affiliate
Join Crypto Goodies affiliate program and earn up to 20% of every purchase.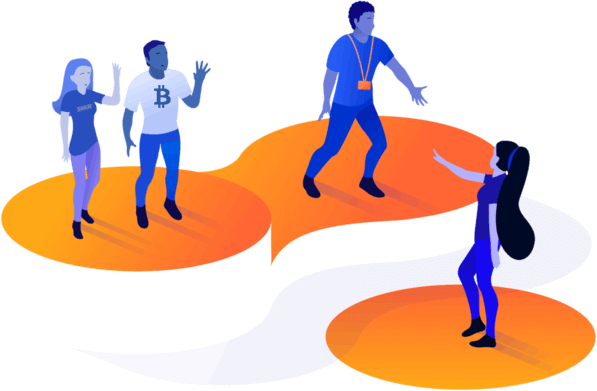 Sign Up
Join hundreds of creators, publishers and bloggers who are earning with the Crypto Goodies Affiliate Program. Sign up, it's free and it takes only a few minutes.
Recommend
Share thousands of products with your audience. We have customised linking tools for large publishers, individual bloggers and social media influencers.
Earn
Earn up to 20% in commissions income from qualifying purchases. Our competitive conversion rates help maximise earnings.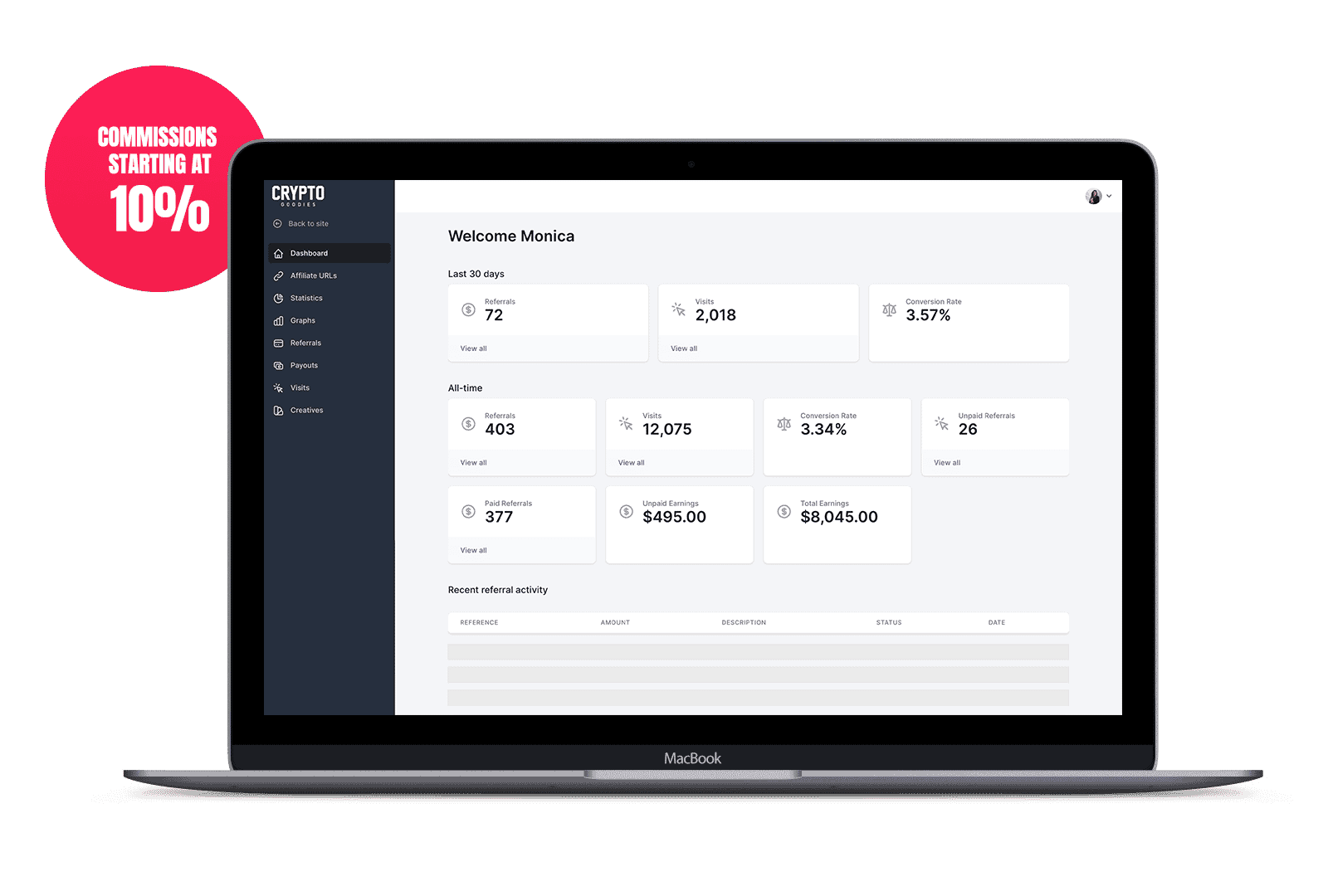 The best affiliate program
We pay out commissions up to 20% with a 90 day cookie! You could earn hundreds or even thousands of dollars every month!
Lifetime Commissions
Our commissions are lifetime! You will receive commissions on all future purchases by the customer(s) you refer to us.
Why you should become a Crypto Goodies affiliate partner?
Promote a trusted crypto clothing & merchandise company
Generate reports quickly and easily
Monthly payouts through cryptocurrencies or PayPal payments
Lifetime Commissions
Dedicated account manager available at all times to assist your efforts
How does the Crypto Goodies affiliate program work?
The Crypto Goodies affiliate program is one of the best high-paying referral programs in the industry. Unlike most crypto affiliate programs Crypto Goodies offers a much higher commission to users who promote our products to their audience. This makes our platform ideal for webmasters or influencers with large and small communities alike.
Crypto Goodies referral program payouts
Much like any cryptocurrency affiliate program, payouts are made every month, once a minimum threshold is met. The Crypto Goodies cryptocurrency affiliate program pays all partners via PayPal or cryptocurrency payment. The minimum payout amount for all participants is $25 USD.
Quick facts:
Cookie Duration: 90 days
Payout Method: Bitcoin / USDT (ERC-20 & TRC-20 ) / PayPal
Features: Lifetime Commissions, Custom Affiliate Links, QR Codes and more…
Signup for free here: Crypto Goodies Affiliates
Cryptocurrency affiliate programs as a form of passive income
Cryptocurrency affiliate marketing is one of the most popular promotional methods for this new industry. Since the public is still at an early stage of awareness, the opportunities currently presented to cryptocurrency affiliates can lead to permanent passive income that keeps on growing.
Affiliates receive up to 20% on each purchase;
Larger/Enterprise affiliate partners with established communities can reach out to discuss larger affiliate payouts (15-20%);
All future purchases of referred customers keep paying you dividends.
Crypto Goodies Affiliate Program FAQs
What is the Crypto Goodies Affiliate Program?
The Crypto Goodies Affiliate Program is free to join, and allows you to monetize your audience and earn commissions from each paying customer you refer to us.
How does the Affiliate Program work?
A simply and mutually beneficial rev-share model that pays a commission for every referral you bring. The more paying customers you refer, the more money you make.
How do I qualify for this programme?
Our affiliate program is for everyone! It doesn't matter where you are located or how big is your audience, we welcome you to our affiliate program. If you have a website, blog or a social media account, you can start earning money with us.
And yes – It's free to join!
How do I get paid?
The Crypto Goodies Affiliate Program uses PayPal for affiliate payouts.
Crypto Payments also available – please contact us at [email protected] after you complete your registration.
When are payouts?
We pay our affiliates at the end of each month. If the commission balance is below $25, then it will be held until the next payout period.
How long does a referral last for?
When a visitor clicks through your affiliate link, a 90-day cookie is set. If they make a purchase within those 90 days, without deleting cookies, you get credit for the sale.
What is the commission structure?
We pay commissions starting at 10% on all qualifying sales. And here comes the best part – the more paying customers you refer to us, the more you will earn! Our commissions are lifetime which means that you will receive commissions on all future purchases by the customer(s) you refer to us.
By the way, Amazon only pays up to 12% to their affiliates. Just think about it.
Tiered Rates
| | |
| --- | --- |
| CUSTOMERS YOU REFER TO US | COMMISSION YOU GET (%) |
| 1 – 100 | 10% |
| 101 – 499 | 15% |
| 500 & more | 20% |
How do I sign up to the programme?
Sign up to the programme here.